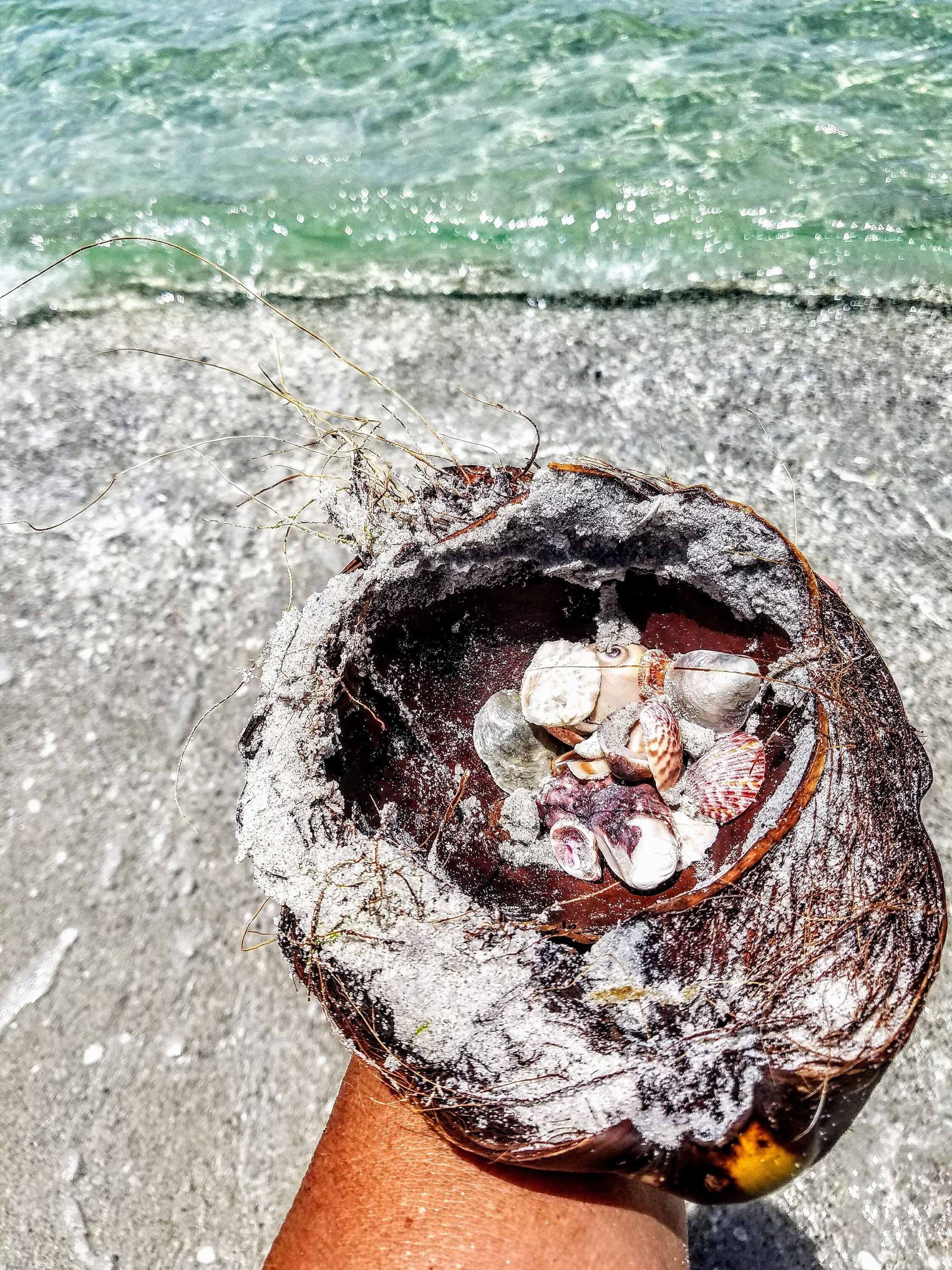 It's true my life has become coastal, but surely not "cocoNUTS",  as the photo may imply. Life on a private island is unique in so many ways; relaxed, laid back, idyllic.  The epitome of the definition of "On Island Time". Not comparable to the hustle and bustle of busy mainland beaches, in any stretch or likeness.
For me however, there are certain exceptions beyond my control that break the mold of fellow islanders.  A certain rhythm to my life and routine that includes fitness,  (My daily, 8 mile fat tire bike ride for cardio, out and about the seashell covered roads) and my internal  auto pilot GPS that leads me to a different stretch of the 7 miles of private beach.  It is there, my passion for shelling comes to life.
It never ceases to amaze me how the ocean delivers a new canvas each and every day. Sometimes it carves large "scarps" or sand cliffs that I affectionately refer to as "sea slides". The next day; flat as a pancake with yards of hard packed, sugar white sand beach.  
Having developed a passion for seashells,  it is of particular interest the vast variety of varying species that dictate the focus of my collecting.  Certain conditions result in an abundance of one over another, but you can never be sure.  Sometimes my collecting bag is not sufficient for the unexpected bounty of large fighters or conchs.  So I've learned to improvise equipping my fat tire mode of transportation with extra storage.
However, today posed a new challenge.  My bright pink mesh bag that has become an extension of my rather limited wardrobe, was left behind.  The amazing "spools" of shells, compliments of last night's summer storms, were filled with tiny gems and unusual offerings; too plentiful for my pockets to hold. So I put my trust in the daily gifts of the sea and noticed a good sized coconut that had been sliced just right; the perfect vessel to transport my gems and later transform into a plant holder to add to my tropical decor. 
Oh, the aura of living by the sea.  So many lessons to learn as deep as the ocean; yet so little time in my foot print in life. So I cherish them all; grateful to be part of this amazing ecosystem as close to heaven as I'll get, on this great earth.